Pure Charge&Go Nx.
The only rechargeable hearing aids for a natural sounding own voice and direct streaming.
Enjoying the great outdoors with friends, conducting long business meetings, listening to your favorite podcast or music – no matter how much activity and work you like to pack into your day, Signia's longer-lasting Pure™ Charge&Go keeps going with you. True to its name, Pure Charge&Go can be fully charged while you sleep so that it's always ready to go when you are.
Wireless charging
Signia's Pure Charge&Go comes with its inductive charger: The hearing aids start charging automatically when you place them in the charger and turn on automatically when you take them out.
Small, discreet, sophisticated
Hidden behind your ear, Pure Charge&Go is a real high-tech marvel: It offers the most natural sound and highest hearing performance as well as superior connectivity in a sleek design.
For most levels of hearing loss
Pure Charge&Go tackles a wide range of hearing loss from mild to severe and gives you back the natural sound of life.
Durable high performance
Thanks to its rechargeable, high capacity lithium-ion power cell, Signia's Pure Charge&Go offers a longlasting, superior hearing experience even when you're streaming audio.
Pure Charge&Go Nx at a glance
Loading...
Accessories for your hearing aids
myControl App
Full control in your hands
The myControl App puts complete control of your new Signia hearing aids at your fingertips. Available for iOS and Android phones, the app offers advanced remote control options so you can change settings and personalize your hearing aids according to your individual preferences.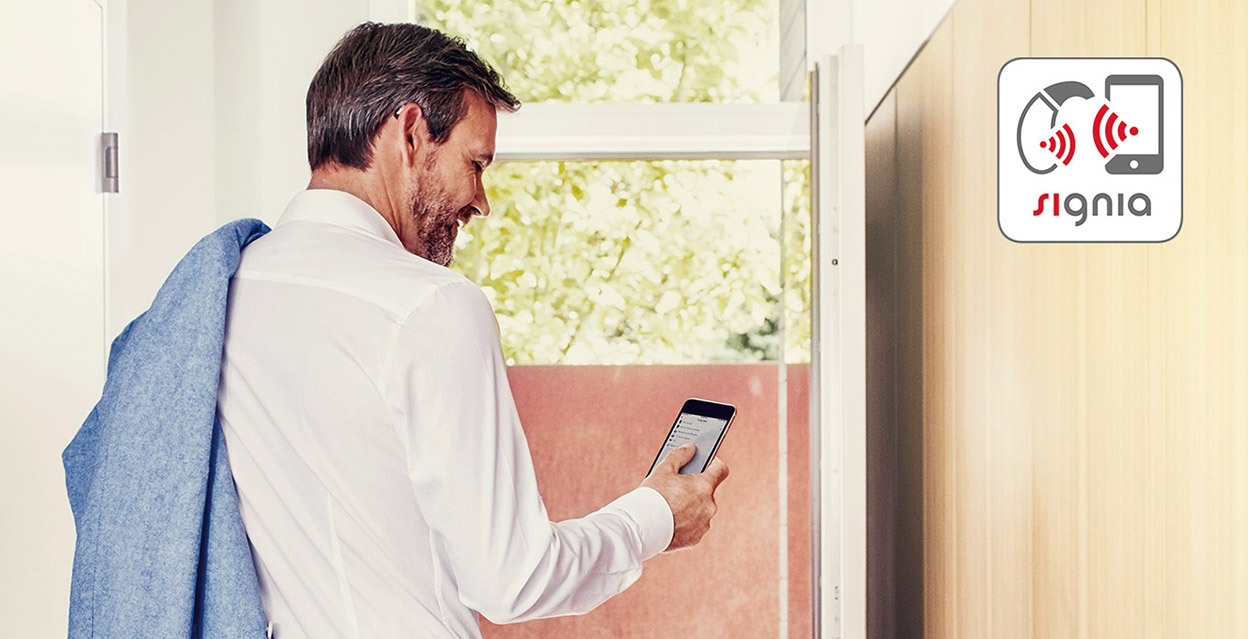 Download myControl App
myHearing App
Get used to your new hearing aids as quickly as possible.
Personal care, anywhere: The myHearing App provides you with all the support tools you need for a relaxed journey to effortless hearing. You can follow special listening exercises, consult the user guide and connect to your hearing care professional on the go.
Your hearing care professional will be happy to advise you.
Learn more about the myHearing App
StreamLine TV
Programmed for superb sound
Thanks to StreamLine TV, audio from your television can be fed directly into your hearing aids. You can even adjust the volume individually via the myControl App.
StreamLine Mic
Hands-free phone calls, music and more in premium stereo quality
The new StreamLine Mic provides full hands-free audio streaming of phone calls and music with any Bluetooth smartphone. It also works as a remote microphone.
Learn more
miniPocket
Discreet control
The ideal solution for anyone who wants discreet, convenient control of their hearing aids without the need for a large remote control or smartphone. Reliable and easy to use, the miniPocket is small enough to carry on a key ring yet powerful enough to control all essential features.
Click Sleeves
Click, fit and go
Available in different sizes, super soft silicone sleeves simply click onto your hearing aids. They sit securely in your ears for a completely natural, perfect fit on the spot – no need to wait for a custom-made housing as with other in-the-ear hearing aids.
Tinnitus?
Unique therapies for lasting relief.
Signia hearing aids are the only ones with in-built Notch Therapy, which can reduce the effects of tinnitus and may even make it disappear completely.*
* Powers, L., dos Santos, G.M., & Jons, C. (2016, September). Notch Therapy: A new approach to tinnitus treatment. AudiologyOnline, Article 18365.
Learn more